If you are new to the world of online and offline roulette, you may not be aware of the multiple variants of this iconic casino table game. There are three common versions of roulette played – French Roulette, European Roulette and American Roulette. This article is focused on the latter variant which is the least beneficial in the eyes of savvy players. Within this guide, we'll explain all there is to know about American Roulette and why this version should be avoided at all costs to maximize your betting bankroll.
American Roulette is also known as Double Zero Roulette
If you are struggling to find American Roulette tables at your chosen online casino or land-based casino resort, it may be because it's labelled differently. American Roulette is also commonly known as Double Zero Roulette. Unsurprisingly, that's because an American Roulette wheel has not one but two additional green pockets – zero and double zero.
On the face of it, American Roulette tables look and feel like European and French Roulette tables. The betting layouts are exactly the same, except for the addition of the double zero green.
The house edge of American Roulette
Although the addition of a green double zero to the betting table and the roulette wheel might not seem like a major change, it is when it comes to the game's house edge. With numbers 1-36, followed by a zero and a double zero, there are now 38 available pockets the ball can land on instead of 37 in French and European Roulette. This means the house edge of an American Roulette game is 5.26%. To put this house edge into context – some slot machines carry a house edge of between 4-5%. This means you're more likely to lose money quicker playing American Roulette than you are with fully randomized video slots.
Even though there are more pockets available for the ball to land on an American Roulette wheel, the payout sizes are the same. This means you're taking more risk for no additional potential gain. The concept of American Roulette was originally designed as a strategic ploy to increase the industry's house edge in a subtle manner. Labelling this new variant 'American' roulette has also been a huge marketing success since arriving in Louisiana, attracting patriotic bettors from across the US to play this version, simply because of its American moniker.
How to bet at American Roulette tables
There are some people that will still want to play at the American Roulette tables to try and 'beat' the game. Although we know that isn't possible, it's important for us to make some clear recommendations on how to wager at a Double Zero Roulette table if you are that way inclined.
When it comes to roulette strategy in the American variant, the best thing you can do when playing Double Zero Roulette is to avoid placing perceived sucker bets that tip the scales too far in favor of the house. The unique 5-number bet carries a whopping house edge of 7.89%. It requires players to bet on 00, 0, 1, 2 and 3. The betting chip is placed overlapping the single zero and one to cover both rows.
If you must bet at an American Roulette table, stick to the betting options that give you a 1:1 risk-reward payout. This includes betting on red/black and odd/even options. Although the chances of landing red/black or odd/even is slightly diminished by the addition of a new green double zero pocket, it's still the lowest-risk option for preserving your roulette bankroll.
What is the best version of Roulette to play?
If you want the best Roulette game in terms of house edge, there is no contest. French Roulette carries the lowest house edge – even lower than its European Roulette counterpart that looks and feels almost identical. If La Partage and En Prison rules are applicable in French Roulette games, the house edge can be as low as 1.35%. Compare that with the 5.26% routinely on offer at the American Roulette tables – as well as the eye-watering 7.89% edge on its unique 5-number bet – and it's easy to see why you're statistically more likely to preserve your bankroll by playing French Roulette.
La Partage and En Prison are rules exclusively applicable to French Roulette tables. La Partage is French for "sharing" or "dividing". The La Partage rule applies when the ball falls into the green zero pocket and bettors have wagered on even-money outcomes like red/black, odd/even and high/low. 50% of all even-money wagers are returned to players, with just 50% retained by the casinos. Bear in mind that La Partage is only valid on even-money bets. If you prefer placing Straight Up bets on individual numbers, La Partage will not provide you with a 50% refund when the green zero lands.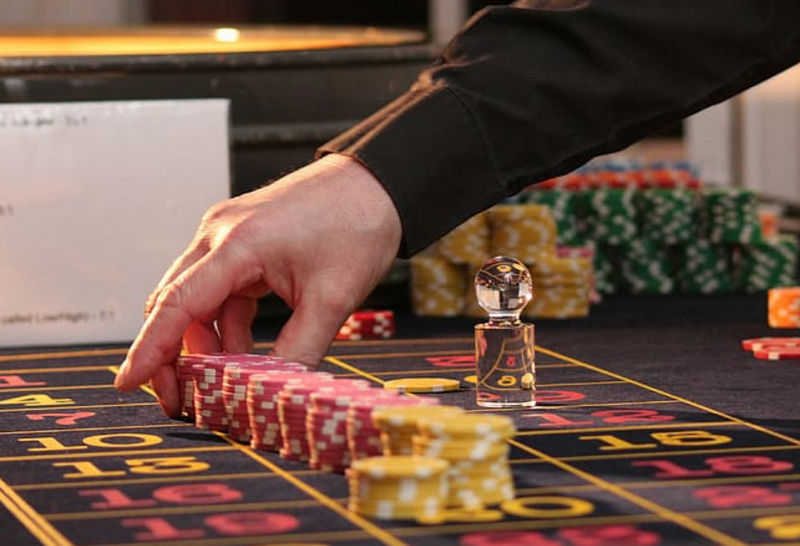 The additional En Prison rule, named after the French term for "in prison", is only rarely found in online versions of French Roulette. In fact, it was coined in the casinos of Monte Carlo, where the rule still applies today. When the En Prison rule is applicable, the dealer will position a glass marker above all even-money wagers when the ball lands on zero. In doing so, the dealer "imprisons" these bets, allowing them to remain in place for the next spin of the wheel. In essence, En Prison gives even-money bettors two bets for the price of one whenever the single zero lands.
It's also worth mentioning European Roulette, which is also played with a single zero, but does not have the added benefit of the La Partage and En Prison rules. This means its house edge is 2.70% rather than 1.35%, but it's still a more credible option than American Roulette for those keen to preserve their betting banks.
To get the best free roulette systems that really work, see the top 5 proven roulette systems and the video series below. It's the best 100% free information for winning roulette you'll find. It's written by professionals who are really earning a living from roulette.