The best proof you can get is a full demonstration either in-person or via live webcam. You can test on any wheel you want, and apply the computers for yourself. The computers are a large investment, and you need to be sure. So there's no reasonable proof you wont see.
In-person demos are in Melbourne Australia, but you can see live webcam demos from anywhere. I conduct both private and group demonstrations.
You are not under any obligation to buy after a demo. But my time is limited so please do not schedule a demo unless you are already in position to purchase, with intent to purchase shortly after a favorable demo.
PRIVATE Demos (Uber & Hybrid roulette computers only)
These are conducted either IN-PERSON OR LIVE VIA WEBCAM, and are only for players with serious intent to purchase following a favorable demo. You will see the full capabilities of technology so you understand what you are purchasing. You will be able to test everything for yourself on one of the world's most common roulette wheels. You can also bring your own wheel for testing if the demonstration is in-person, or even bring other roulette computers for comparative testing. For webcam demos, you will be able to chat me live and request verification the footage is live. You'll see everything needed to understand how it's used in real casinos without being detected.
In-Person 1 on 1 Private Demo Setup
The typical setup for 1 on 1 demonstrations is shown at the top of this page.
In-Person Group Demonstration Setup
Group demos are usually done with no more than 9 attendees at a time. This ensures everyone has the chance to have questions answered. It also keeps things close and personal.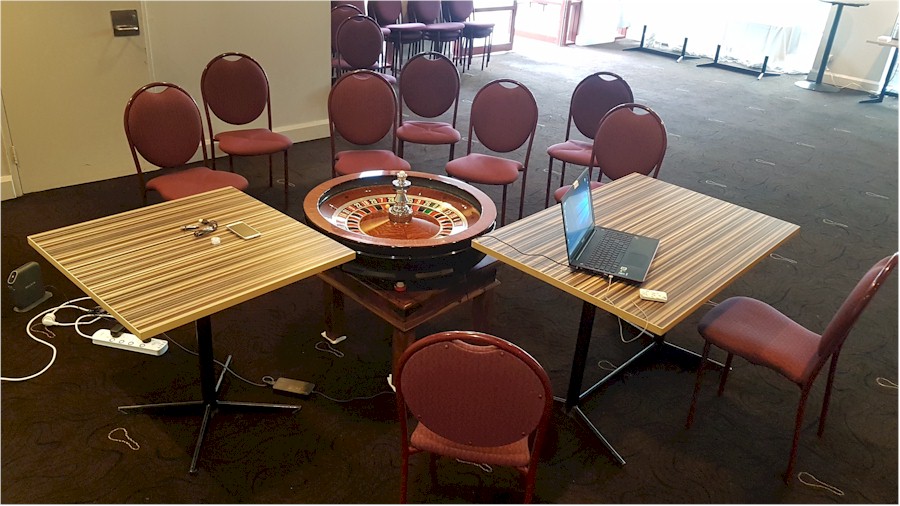 John Huxley Mk7 Wheel
This is a 2019 model wheel, which is one of the most common designs in the world. Normally we use this for demos unless you bring a wheel of your own for testing. You can spin the wheel yourself, and even disassemble it to ensure it hasn't been tampered with.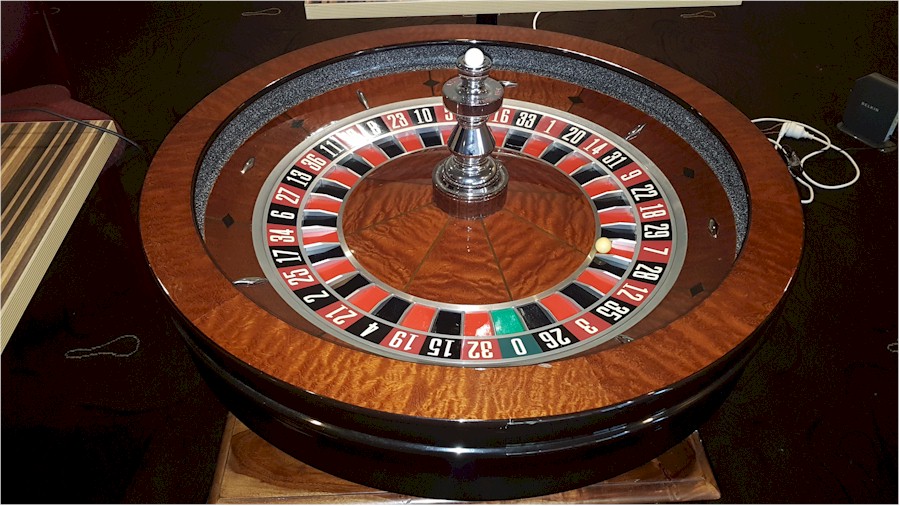 General Facilities
Lunch, coffee, tea and snacks are provided by the conference center staff. Usually we take a break for lunch at the on-site restaurant.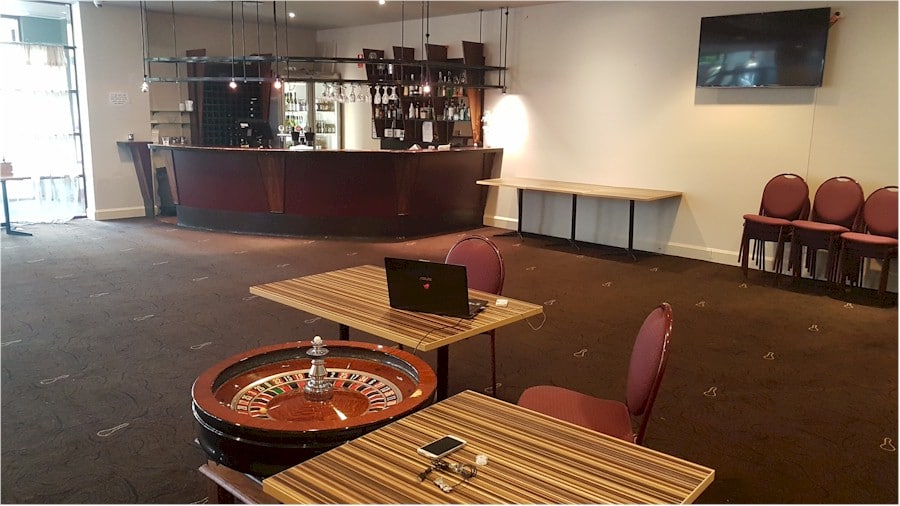 FREE TRIAL Roulette Computer
You can use the free trial roulette computer to test from home. It costs nothing and there's no risk. For details see www.roulette-computers.com/free-trial/. A screenshot is shown below. It uses the same algorithms as our "Lite" version roulette computer (a simplistic version). The Uber and Hybrid much more sophisticated, far more accurate, and get much earlier predictions. But you can only see them in a demonstration.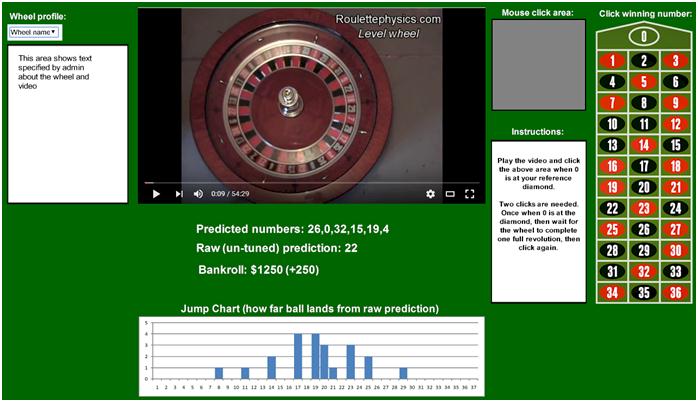 PUBLIC GROUP Demos (Uber & Hybrid Roulette Computers Only)
Public group demos are conducted either IN-PERSON OR LIVE VIA WEBCAM, and are for anyone for any reason, even if you have no intention to purchase. Unlike with the private demos, you will not see "everything" because some parts are secret. For example, you will still see a clear demonstration of effectiveness, but the advanced features wont be explained or demonstrated to you. These demos are to give people a better understanding of my technology's capabilities, and to address false claims from unscrupulous sellers of other technology. Also in public group demos I usually teach attendees a free technique to beat roulette. I previously conducted one group public demo per year. But due to limited time, I can now only conduct private demos (for players with intent to purchase).
Recording of Previous PUBLIC GROUP Demonstrations
In the below recording of a public demo, I demonstrated the Uber version of my roulette computer. We covered 15 numbers and the accuracy rate was over 90% win rate. We could have easily bet just 1 to 3 numbers. The edge achieved was approximately +120%, which is enormous considering the casino's edge over typical players is just -2.7%. The full length version of this video is long and tedious so I showed only the most relevant parts:
This video was also published so purchasers of other roulette computers can compare their device on the same spins. One computer from another vendor initially achieved 1/3rd of the edge, although the edge eventually evaporated to no edge at all as the ball's deceleration rate changed. Another computer achieved no edge at all.
How to Attend a Demonstration
Live webcam or in-person demonstrations can be arranged but are subject to the below terms, which unfortunately are necessary because many people have wasted my time:
US$500 deposit to be made prior to the demo.
After clearly favourable demonstrations, some players stated they were not in a financial position to proceed for some time. My time is limited and best reserved for players in position to proceed. You are never under any obligation to purchase. But I just ask players not to request a demo until they are already fully in a position to proceed.
I'll provide a demonstration either in person or via live webcam. Because this takes my time, the deposit is non-refundable except in circumstances where "proof of effectiveness" is not demonstrated. If you decide not to purchase for any other reason, the deposit will be considered non-refundable reimbursement for my time to provide the demonstration.
The definition of "proof of effectiveness" is an "edge" on a mk7 Huxley wheel with an ivorine ball, and in a manner that's required for profit (predictions at least 7 seconds before the ball hits the rotor, and rotor speed approximately 4-5 seconds / revolution). To prove the results weren't just "luck", I will also provide you with a detailed analysis of the predictions and charts produced by the computer. You may take your own notes to verify the charts are accurate. This is basically to prove that even when we didn't win on specific spins, the ball at least landed close to predictions a statistically significant amount of times.
If you cancel the demonstration after I've booked a physical venue for the meeting, I don't receive a refund from the venue, so your deposit is non-refundable (required amount to cover any of my expenses, including bank fees).
If I'm unable to do the demo for any reason on my side, your deposit will be fully refunded.
Submit the below form to register your interest to attend a demonstration. You will be contacted with further details.
Frequently Asked Questions
Q. Can you demonstrate the roulette system, which does not use electronic devices?
I only do demos of the roulette computers. I don't do system demos anymore because it takes much longer to demonstrate, and the payment I receive does not justify the time it takes. But the free trial allows you to test working systems for as long as you want.
Q. Can you demonstrate your roulette computers in real casinos?
Yes, but only with the Hybrid roulette computer, and there are conditions. First I'll explain the issues:
Real casinos spin the wheel less frequently than we can in a private demo, so demonstrations in real casinos take much longer. You need to see a statistically relevant amount of spins for proof to be clear. When you can spin the wheel yourself, we can test about 100 spins per hour. In a real casino, this may take 3 hours. Real play in a casino may only be for 20 spins, but that's not enough for a "demonstration" to purchase expensive equipment.
You will need the equipment. This includes various components like a suitable mobile phone, earpiece, induction loop, and mini camera.
You will need to be trained so you know what you're doing (which takes additional time). It takes the average Hybrid player 2-3 sessions in real casinos to be competent.
You'll need to provide details of laws that indicate computers are legal in your casino. It isn't difficult as you can check laws on government websites, but it takes time. Computers are legal in about half of jurisdictions.
Instead of the normal $500 fee for private demos, the fee is $1,000 up front. This is because I will need to spend extra time with you to train you, so you know what you're doing.
Understand that most most players take about 3 real casino sessions before they are competent enough to profit. This has nothing to do with the computer software. It has to do with things like understanding the earpieces, the batteries, positioning the camera and hiding it properly, connecting to the server, adjusting sound volumes etc. Because most players take 3 real sessions to start profiting, you can't realistically expect great results the first time you ever use the equipment in a real casino.
So while testing in a real casino may seem ideal, it is not practical for a demonstration.
Alternatively, you can video record spins from your casino, and we'll apply the computer on those spins. You can bring the video to an in-person demo, or stream the video to me via Skype. I will be seeing the spins for the first time. But you will still need suitable equipment to covertly record video. Keep in mind it doesn't matter if a wheel is inside or outside a casino. The physics doesn't change.
Another option is you watch a live session in a real casino from experienced players. But the problems are:
a. We need the team's permission, and they are not in the least bit interested in showing strangers how they covertly beat casinos, and
b. I'm not going to inconvenience my players by asking them to do things like wave to camera on demand, just to prove the footage is live.
As this page explains, you can get any reasonable proof you want. But it needs to be practical. There are various options including:
Test on any wheel you want, either in-person or via webcam.
Test on recorded spins from your casino.
Test on a wheel you hired and have at home.
Test on videos of wheels I've never seen before.
Once you see the computer in action for yourself, you can plainly see how it works. So you don't need to guess about what you see. For example, you will see clear parts like the computer beep when the ball is predicted to fall. You will also see clear statistics that show how far the ball bounces.
Remember you aren't under any obligation to buy after a demo. So it's not exactly a big risk for you.
Q. Can you show me video recordings of real players winning in real casinos?
Yes, but only for the Hybrid computer as it's the only computer that uses hidden cameras. The videos are not publicly available. I can show them in private demonstrations. In addition to seeing real play, you'll also see various capabilities such as how the hidden cameras work, and are automatically aimed at the wheel.
Q. What wheel are demos usually done on?
You can see a demonstration on my latest wheel, which is a 2019 model John Huxley Mk7 wheel with Velstone ball track, and a bouncy ivorine ball. This is one of the most difficult wheels to beat. Learn about this wheel at http://www.tcsjohnhuxley.com/live-gaming/roulette-wheels/saturn.html. We can also disassemble the wheel so you know it has not been tampered with.
You can also bring your own wheel, or hire one from a roulette wheel hire company – although these are usually easier to beat because of poor maintenance.
Q. Can you visit me to give a demonstration?
No, I simply don't have time even if you pay extra. Besides you can see whatever you need via live webcam if you are unable to travel to me.
Q. Can you test the computers on live video I stream to you via an Internet service like Skype?
Yes. This option is suitable if you have your own wheel at home. Simply aim your webcam at the wheel and you will hear the computer's predictions live via Skype.
Q. Can the roulette computers be applied at online casinos?
The Hybrid and Uber computers can get accurate predictions at online casinos, but only the Hybrid can actually get predictions in time to bet. But I don't expect for much longer. This is because we have won enough to force some online casinos to call no more bets much earlier, and other online casinos may eventually do the same.
But real casinos usually only call no more bets much earlier when they suspect a roulette computer player is present. It is very unlikely most real casinos will ever forbid bets after ball release because it speeds up the game, so more bets are placed, and the casino ultimately earns more. There are far more losers than winning roulette computer players, so it is not financially viable for real casinos to call no more bets too early. Perhaps 1 in 50,000 players use a roulette computer.
If casino staff in a real casino suspect you are using a roulette computer, they simply call no more bets earlier until you leave, then they resume normal procedures. Online casinos generally adopt a "prevention is better than a cure" approach, so they can avoid roulette computer players winning large sums, even if it means they will ultimately earn less from other players. After all they can't physically see who the players are. So online casinos usually prefer less risk in exchange for less but more assured profit. More experienced casinos tend to allow late no more bets to maximize their profit, but are more vigilant in detecting roulette computer players before they do damage. But even in such casinos, a professional team can easily avoid detection.
Q. Can you do demonstrations from online casinos?
My internet connection isn't fast enough to download live video from online casinos while simultaneously uploading video for you to see. But what we can do is you pre-record spins from an online casino for me to test on. Then when it's time for the demo I download the video to conduct the demo. It will be the first I've seen the video so it wont be possible for me to cheat. Then I'll play the video while you watch me get predictions with the computer. If you choose this option, I'll need video with a reasonable view of the wheel, and smooth frame rate. You should have 150 spins for one direction (testing in one direction only saves time). And the video must be continuous and uncut to ensure the wheel wasn't changed mid-play. Most online casinos close bets before the ball is released but at least you will see prediction accuracy on a wheel you know I don't control. Before you take the time to record the required spins, send me a small sample recording and I can tell you whether or not the video is suitable. Generally avoid the auto wheels and focus on live dealer wheels. We can often beat auto wheels but they're more difficult, so we usually avoid them.
How To Record Spins From Online Casinos
The wheel I own is one of the most common designs in the world. It is maintained better than most casino wheels, and is more difficult to beat than average wheels. So it is suitable for testing. We can even disassemble it so you see it hasn't been modified. But if you want to see a demo on a wheel I don't own, you can record spins from an online casino. I recommend using the free software from https://obsproject.com/ – see the instructions below to record videos. There are many online casinos that provide good, clear and smooth video.
You should have 150+ spins for one rotor direction (either direction is ok). There isn't much point to testing too few spins.
How To Record Video in Real Casinos
The wheels in real casinos are mostly the same models you'll see at online casinos. You can see demos in-person with me, but I do not send you a free full version computer to test. But perhaps you want a demo on the exact wheels you intend to play on. As a compromise, we can test on videos you record from inside your casino. Usually a well-hidden mobile phone is all your need. You can have another player connect to the phone via Teamviewer.com software to stop and start videos, and to make sure video is still recording. Remember you can't see the phone screen in the casino.
IMPORTANT: Normally for me to test on your recorded video, you'll aim a webcam at your PC screen, and send the video to me live via Skype. This means I can't zoom the video like I normally would with the actual equipment we use, so the video quality must be better than we normally need. Requirements are explained below.
Requirements:
Make sure it's legal. Sometimes recording video inside the casino is illegal. Usually if the roulette computers aren't legal there, recording video wont be legal either.
Record at least 150 spins for one direction (the more the better). We could test both directions, but testing only one direction saves time.
The video should be clear and steady. Don't shake the camera during the spin. Some movement is ok, but just don't jump around.
Ideally the edges of the wheel will be just inside the edges of the video. Don't be too far or too close to the wheel.
Keep the camera around the same height and distance to the wheel. The higher the camera, the clearer and better the view. Don't have the camera too low.
The videos should clearly show the entire spin, including the winning number. Otherwise accuracy can't be assessed.
Video resolution not greater than 720p (1280 x 720). Keep it as small while still being clear. Otherwise the video is very large and difficult to work with.
Try to capture when bets are closed. This will give you an idea of whether or not predictions were in time to bet.
Before you record all 150+ spins, send me a video of a few spins to make sure it is suitable. After all you don't want to spend the time recording all spins if the video is unusable for some reason.
Focus on real dealer wheels as we can beat almost all of them. Avoid auto wheels if possible, although we can still usually beat them. Rather than focus on what you think is a very difficult wheel to beat, choose an AVERAGE WHEEL, with a real dealer, and medium wheel speed (about 4-6 seconds per revolution). You don't need to assess dominant diamonds.
Examples are below. We don't need a "perfect" view, but get the best possible:
Image #1 is the typical view we'd have in real-play situations. In fact in real-play, the distance to the wheel can be much greater because we use video zooming equipment and automatically aiming cameras. But if you are sending us video for a demonstration, we prefer video like in Image #2.
Image #1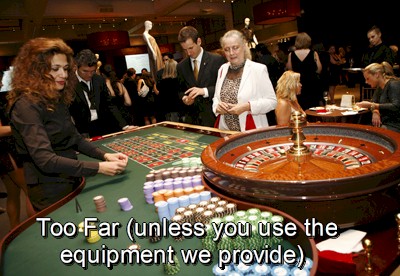 Image #2
The better the video you provide, the clearer the demonstration will be for you. Part of the demonstration will be to show basic accuracy. And another part of the demo is to show you capabilities such as automatic camera aiming and zooming. This is important for you to see because rarely is the camera view perfect.
Software & Hardware To Use (The Camera)
You need only a reasonably modern Android phone, and an app named "Quick Video Recorder – Background Video Recorder" which is available in the Google Play store at https://play.google.com/store/apps/details?id=com.kimcy929.secretvideorecorder&hl=en_AU
The camera's lens only needs to peek through a small hole in clothing. But you need to fasten the phone into place so the fabric doesn't block the lens. There are many ways to do this. You can use something like velcro around the lens to keep fabric in place.
KEY POINTS WHEN USING THE APP:
Learn to accurately aim the camera at home, so you can accurately aim at the wheel in the casino.
Aim to capture each complete spin, from the moment the ball is released, to when it comes to a complete stop.
Use the correct settings so recordings are made even when the screen is OFF with the phone is locked.
Set the "focus mode" to "infinity" so the video doesn't need focusing.
Use "video stabilization" setting if your phone is capable.
Set the "video orientation" to either "portrait" or "horizontal" (depending on the phone's orientation), but NOT "auto".
Make sure the phone has enough space for long recordings.
Activate the setting "maximum file size of 300mb", which prevents video files becoming too large.
Activate the setting "repeat recording (no limit)" so recording continues with a new file, after the maximum file size is reached.
Set the "video resolution" to "SD 480p", otherwise the video files are larger than needed.
Keep the camera as steady as possible while recording. Record a few spins to test. If they are too shaky, they may be unusable.
It is not hard to get clear recordings, while NOT looking like you're recording. Don't make it obvious. It just takes practice.
Consider the alternate option of using screen recorder software for you pc, and recording online casino spins.
You should record 150+ spins for at least one direction. This will take many hours (which is one reason other options are more practical for a demo). But remember you'e recording video for a proper test. Shorter tests are not worthwhile because then you might think it's possible the accuracy was just luck.
Where possible, stand in the same place for the same view. Changing views and positions is ok, but not ideal.
Bet the bare minimums just to stay at the table.
Play when the casino is quiet. This will take much less time, and make everything much easier. If you record when the casino is busy, you could be there all night.
Test thoroughly at home before recording in the casino, then you wont have trouble with your recordings. When things go wrong, almost always it is because the player didn't test properly first.
I suggest record 10 or so spins as a test, then send then video to me. I'll let you know whether or not the video is sufficient. This is better than recording many hours of useless video, then having to re-do it.