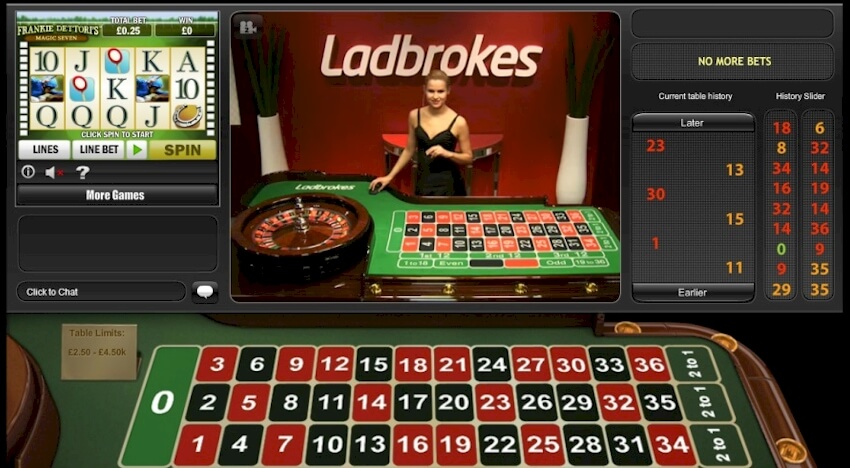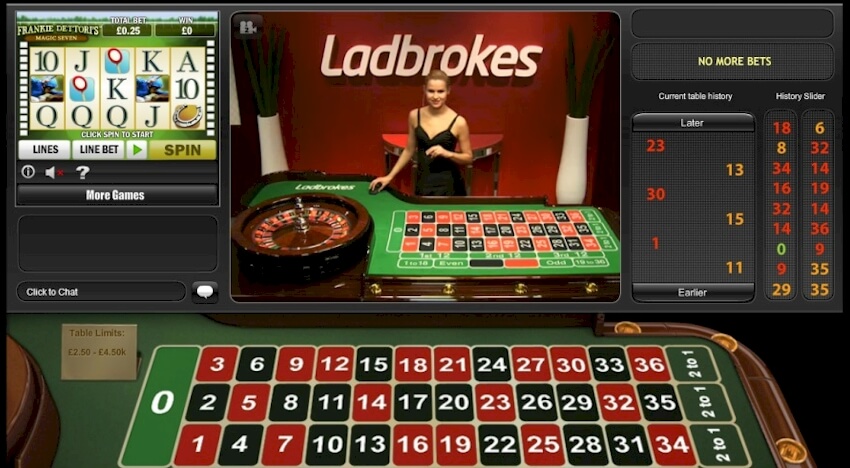 Winning on Ladbrokes roulette is essentially no different to beating any other casino. This particular casino offers live online games, and suffer generated games such as slot machines and other computer games. In games where there is no physical device such as a roulette wheel, I'm sorry to say you simply cannot win in the long run. I'm not specifically saying that Ladbrokes does it, but it is very common that online casinos will force game outcomes based on winnings and losses of previous bets. This includes bets from other players that have nothing to do with you. This has been known for some time, and you can see for yourself by reading and understanding the specifications of the software used by casinos. Most of the casinos using this kind of technology are called rogue casinos, with a are set up offshore jurisdictions that have no fair gaming laws at all. They can literally be run by a single individual sitting in front of his computer wearing his underwear. But there can be of the illusion that it is a big company and reputable casino. All it takes to have the appearance of Ladbrokes casino is a good web designer and some fancy words.
Okay so back to the original topic of how to play and win at Ladbrokes roulette. Essentially it is no different to any other casino, meaning that you need to focus on live roulette games only. Not saying you can't win another games, but when it comes to something like blackjack, card counting is no longer viable because of card shuffle machines that shuffle constantly and make it near impossible to card count. Actually technically it is possible to achieve an edge this way, and with correct shuffle analysis, although it is much more difficult and time-consuming than it's worth, considering you only get a few percentage edge. This is why if you intend to win at Ladbrokes, that I suggest focusing only on roulette there, specifically their online roulette.
The two main approaches for winning Roulette at Ladbrokes are the cross-referencing Roulette system at Roulettephysics.com, and the roulette computer devices at roulette-computers.com. Ladbrokes casinos previously allowed late no more bets with roulette. This is specifically when they spin the wheel and ball, and allow betting while the ball is still spinning. This allows a roulette computer cheating device to time speed of the ball and rotor, and predict where the ball will land. This is an incredibly easy way to win, and some of my players have taken enormous sums using roulette computer devices that Ladbrokes roulette casinos. So it is no surprise that Ladbrokes now calls no more bets much earlier. But it is not say that winning with roulette computers is still done at this particular casino, just with more sophisticated equipment that I won't go into.
Casinos typically allow betting while the ball is spinning because it speeds up the game, and more bets are made at the table. And because most Ladbrokes roulette players are losers, this means the casino is likely to earn more. And if someone is found winning a very large amount with late bets, the casino will simply call no more bets much earlier until the player leaves. Even in cases where Ladbrokes were to call no more bets even before the ball is released, still the best way to win and Ladbrokes roulette is explained at Roulettephysics.com, which are specifically the JAA Roulette system.
This particular winning Roulette strategy is not based on any kind of voodoo patterns, but rather physics of real physical roulette wheels. And this physics applies to all wheels. But generally speaking, although any wheel design can be beaten in a home environment, beating a wheel in a casino environment is quite different. When it comes to specifically Ladbrokes roulette, it is not quite a real casino environment, it is simulated so it is really no different to an office. One benefit is the wheel is spun quite frequently, as opposed to the occasional once every 2 to 3 minutes that is achieved in real casinos.
Can you beat ladbrokes roulette? Absolutely, but remember the typical casino rules apply, which means the only real limit to what you can win is what you can get away with. So you really need to avoid detection. If you try winning with the same account repeatedly, eventually you will be banned or restricted in some way.
To get the best free roulette systems that really work, see the top 5 proven roulette systems and the video series below. It's the best 100% free information for winning roulette you'll find. It's written by professionals who are really earning a living from roulette.