This page explains where to get any resources available to players (includes roulette system and roulette computer players). Please note the following:
The first thing you must do is register at the player forum, because it's where you access all resources. This includes unlock codes, software, videos, instructions and more. Follow the below steps to to access the forum:
Read the forum terms at the bottom of the terms of service page (never use your real name as the username).
Join the forum using only the email address you used to purchase.
Contact Us to request access to the player-only areas. We'll then give your account access to relevant sections.
Neither myself or support staff work on weekends or public holidays. Support tickets are still checked on these days, but only responded to if urgent.
Do not mark support tickets as urgent unless they really are urgent. Urgent is something like you are in a casino while in another country, and you need an urgent access code. But this shouldn't happen if you check when the code is due to expire, force earlier expiry, and get a code before the weekend. But don't send your request just before the end of Friday or you may not get a response before the weekend.
How To Get The Quickest Support Possible
If you send us a confusing email or support ticket, with poorly worded sentences and disorganized information, we'll often put aside your support ticket until later. Then we'll answer the clearer and better organized tickets first. This is because it allows us to help the most people in the time we have. So if you don't want a delayed response, put some effort and thought into making your questions simple and clear. With many emails, unclear questions waste a lot of my time because it's not immediately obvious what you are talking about – then we need to review past conversations in detail to understand the context of your questions. Instead, explain the context clearly and concisely in every message you send. Don't assume we perfectly recall our conversation, because it's impossible for us to remember everything from every past email. We sincerely want to give the best support possible. Please help us give quality support to everyone by taking a little extra time to make your questions clear, well-worded and specific.
If you send vague and poorly worded questions, don't expect us to give you a range of answers to cover all the possibilities of what you wanted to know. That takes far too much time. Instead, we'll respond simply asking you to be clearer and more specific. We hate to appear rude or abrupt about it, but being direct is required for efficiency.
Unlocking Documents & Software
When documents or software require unlocking, they'll automatically give you a code to send us. You must send the code to us via the help desk at the form. Then we'll either unlock the document for you, or send you an unlock code for the software. A screenshot of the help desk form is below: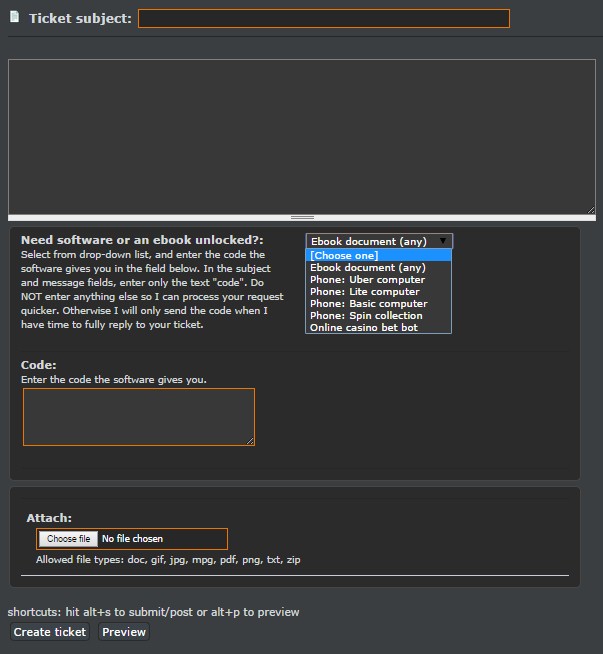 List of All Available Resources
Below is a list of everything you have access to as a player. You must be signed into the forum to download files, and your forum account must be approved. If you are a new player, don't get confused by the amount of resources. Usually all you "need" is access to the JAA software, and the 15 minute instructional video. But also understand sometimes the other techniques we also provide are better options for your wheels. Some techniques can be perfect for a wheel, but useless for other wheels. Understand there is no single technique that's best everywhere. You can contact us directly if you need additional support.
SOFTWARE
JAA Wheel Analysis Software (web version): This is available to roulettephysics.com system players only. It analyzes wheels and generates the betting charts. To access it, login at http://www.roulettephysics.com/jaa. You will have been sent login details when you joined. If you haven't received your login information, contact us. Download the video tutorial/instructions: [Download Video Tutorial]
JAA Wheel Analysis Software (mobile phone version): This is Android phone software that runs a phone version of JAA. See all instructions, including how to download and install it, and how to use it, HERE. You must be logged into the forum to see.
Online Casino Betting Bot: This is Windows software that automates part of your betting for online casinos. This is a huge time-saver if you play online. [Download Software | Download Video Tutorial]
Spin Collection Software for Mobile Phones: This is software you can install on mobile phones, and it enables you to collect all data from a roulette wheel without needing pencil and paper.The software/phone is operated via a hidden cable and wireless earpiece so its more covert. The software is free for players and you can use your own hardware (phone, earpiece etc). But you can also purchase the hardware from us at cost price. You should need either only the .JAR file. But some phones also need the .JAD file. Refer to your phone's model's instructions on how to install the software. Download: [JAR file | JAD file] [Download Instructions Document]

Basic Roulette Computer, Atilt Timer & Ball Distance Deviation Tester: This is a simple roulette computer that's free for all members. It also includes various tools to help you assess roulette wheels.You should need either only the .JAR file. But some phones also need the .JAD file. Refer to your phone's model's instructions on how to install the software. Download: [JAR file | JAD file] For instructions, download the "main instructions & primordial variants" document (see below).
Mobile phone thumper software: This is installed on mobile phones that support J2ME Java. It is a visual ballistics or timing aid. You should need either only the .JAR file. But some phones also need the .JAD file. Refer to your phone's model's instructions on how to install the software. Download: [JAR file | JAD file]
Windows PC Thumper: This is installed on Windows PCs. It is a visual ballistics or timing aid. [Download software]
Android Timer: This is an Android app that takes timings of the rotor rotor or ball. It is easy to use. Simply select the click key you are using, then start clicking. When there are no more clicks for some time, the app ends the sample and starts a new one. You can review the groups of timings in the menu. [Download software]
INSTRUCTIONS
JAA ROULETTE SYSTEM
Main Software (JAA): You will have been sent your login details, but see this link if you haven't: [Getting JAA Access]
Primordial variants: The best traditional advantage play systems. Sometimes these are a better option than the main software (JAA): request this via the help desk.
Main Software (JAA) Tutorial Video: [Download Video]
Printable charts: [Download Charts]
JAA CHECKLIST: Before getting support, please have a careful read of the JAA checklist at www.roulettephysics.com/forum/index.php?action=kb;area=article;cont=67 (you must be logged in to forum to view) If you are not winning consistently, almost definitely you will find the checklist will specify one or more things you have neglected. If you are clearly neglecting something, please correctly apply the system before getting support.
Find it difficult to see the wheel or collect the data? See this article and video for a much simpler and easier data collection method. It can be used even if you can barely see the wheel.
JAA PHONE SYSTEM
This version of JAA is simpler to learn and use, but requires a hidden mobile phone at the table, so it's not legal everywhere. Support articles below (log into forum to see):
How do I start using the JAA phone system?
How to use the phone system software
ROULETTE COMPUTERS
Uber Version: 
Main Instructions Ebook: [Download Ebook]
Phone Operators Manual: [Download Ebook]
Video tutorial – Scatter analysis method 2: [Download Video]
Video tutorial – Setting areas to target diamond hits: [Download Video]
Video tutorial: Using Dagra: [Download Video]
Video tutorial: How to use auto target [Download Video]
Lite Version:
Main Instructions PDF: [Download Document]
Basic Version:
Main instructions PDF: [Download Document]
Remote Hybrid Version: [contact me for link]
Practise videos are at https://www.roulettetraining.com/videos/ although you will only be able to beat the "level" wheel with either the Uber or Hybrid roulette computers. You will be able to beat the "Titled wheel 2" video using the Basic, Lite, Uber or Hybrid version roulette computers.
MISCELLANEOUS INSTRUCTIONS & DOWNLOADS:
Instructions:
Deviation tester instructions: [Download Instructions]
Spin collection software for mobile phones: [Download Instructions]
Video tutorial: Online casino betting bot: [Download Video]
Video tutorial: Deviation tester: [Download Video]
Video: Background of roulette computers: [Download]
Other systems:
Sports betting system: [Download Ebook]
Other Resources
Player-only Forum: The player forum is at www.roulettephysics.com/forum. Access is required for you to download various software and instructions. It is a private forum for roulette computer and system players. There are hundreds of members and thousands of posts containing valuable information. Many experienced players also help new players learn the ropes. To access the forum, simply signup then e-mail me to let me know your username. You must signup only with the email address of yours we have on file. Then we'll give your account access to the relevant parts of the forum. Do not send us private messages via the forum because we do not check them often enough. You can ask questions via the forum in discussion threads, and we and other players can assist. But sometimes other players will give you incorrect answers, so do not rely on them for help. Only consider our (support staff) answers to be accurate. The forum has a lot of information and it's easy for new players to feel overwhelmed, but just keep it simple and rely on the instructions we provide and direct support from me. Then you'll find learning everything to be much easier.
Knowledge Base: The knowledge base is part of the forum and answers common questions. Visit the knowledge base (you will need an approved forum account to access it). If your question is not answered in the knowledgebase, you can either ask other players in the forum, or ask us via the help desk. The knowledgebase is frequently updated to provide efficient support.
Help desk: The help desk should be your FIRST option for support. Use it instead of emailing or calling us. You can send us questions, files and whatever you need. You can easily track the status of support requests (tickets), and easily save records of all responses. You must be logged into the forum with an approved account to access the help desk.
Getting Support: The player forum has a knowledgebase, video tutorials, help desk for contacting us. Also it allows you to get help from other players. So it has everything you need in one place. Other options are below:
Phone: +61 3 9018 5395 (we only take calls on Wednesdays unless other times are scheduled. Our timezone depends on who you speak with. You may find usually it's more convenient to get support via the help desk, because then you have record of our responses. But in some cases, a voice chat via Skype is better to clarify issues.
Skype: Our Skype name is "rouletteanalysis". Skype is used more often than phone as we can maintain multiple chat windows at once. Skype is free and can be downloaded from Skype.com. You need only a reasonable internet connection and a microphone.
Mobile Phone: My mobile number is +61 468 338 305 (use this ONLY in emergencies). An emergency is not if you have a quick question. An emergency is something like if you are in the middle of play at a casino and a software code expires. But this will not happen if you follow the instructions. Emergencies are extremely rare, and respect that I use this phone number for family too. Do not call at 3am or some other insane hour unless the situation is critical, and be aware of the timezones. Many people are still ignoring my requests to use this number sparingly. If this continues, I will have to deactivate the number.
Although my mobile number is available, unfortunately I live in a rural area with very poor mobile phone reception, so sometimes mobile calls are not an option. If you are unable to reach me on my mobile, then your best option is the use the Help Desk and specify your request as urgent.
Player Announcement Blog: My blog at https://www.roulettewire.com informs you about issues relevant to players, including my schedule (so you know when to expect responses), and various developments for tools and software etc. You can be emailed updates by entering your email address at the top right of the blog. All players should subscribe to avoid asking questions that are already answered. Subscribe by entering your email address on the right side of this site or at www.roulettewire.com.
PLEASE, PLEASE, Read this carefully
We've supported well over 1,000 players for around a decade, and the same mistakes are often made by new players. Please save us both time and effort by carefully reading below:
DO Very carefully read all of the instructions and everything we send you. We know you're eager to get started, but be patient and read carefully or you'll get confused and overlook key points. We've taken a lot of time to explain every detail, and you probably won't need any support if you SLOW DOWN AND READ THE INSTRUCTIONS CAREFULLY. Every player says they'll do this but most don't.
DO trust that we know best what you need and how to help you. Often players insist on taking shortcuts or doing things differently. For example, they may insist they only need clarification on one point, but other things they've said show they don't really understand things. So we will ask them to very carefully re-read the instructions, and they will claim they have. Although they very clearly haven't understood key points. And it can go in circles until they finally listen to us, then later understand what we were going on about. PLEASE, save everyone the time and very carefully read everything, slowly. The instructions aren't at all complicated. But most people tend to rush through them.
DO follow my instruction. If you are losing and don't know why, we will ask you to send us all data, from start to finish. We will need to know EVERYTHING you have done, including how you assessed the wheel, why you chose a wheel, any assessment data – we need all of it. Then we will carefully check and it will be much easier for us to identify mistakes you have made.
DO NOT bet for real until you are first winning consistently in practice sessions. So many players jump in and start betting without a thought, and many succeed this way. But most players will need proper practice over a week or so at least. And winning "consistently" means over thousands of spins. The more spins you test, the more assured your profits.
Do NOT insist we need to speak in a voice chat when it isn't essential. Voice chats take much more time than they should, and it means we have less time for other players. Also I personally am much better explaining things with written text. Clear and specific written questions will give you clear and specific answers, and you can refer to them later. In cases where voice chats are necessary, contact us to arrange a suitable time. But use it as a last resort. When we do speak, please understand we're not meaning to be abrupt but we need to answer your questions ASAP, then continue helping others.
Do NOT contact us via email for support. Your first option for support is the help desk where experienced support staff can answer your questions sooner than I can. If there is a question they can't answer, they'll forward your support ticket to me.
Do NOT send us offline Skype messages. Skype is for live chat. we log on usually once a week and usually get many offline messages that are very easily missed.
Do NOT contact us with a Yahoo email address. They have very bad spam filters and often block our emails because of gambling keywords. Some email service providers are the same. The only guaranteed way to contact support staff or myself is with a support ticket.