Being relatively easy and exciting to play, roulette has been on the top of the list as a gamblers' favorite. The game was invented a very long time ago, and has developed numerous variations ever since. Obviously, everyone knows that there is a wheel with numbers, and the chips, but the majority of betting options may cause some frustration among the new players. Thus, it is important to understand what is what in this one of the most beloved gambling adventures in the world.
The most popular variations are American, European, and French roulette. But there are more types of roulette casino games that we will explore below. For now, let's mention that along with the 36 numbers, a roulette game can have an extra one, two, or three green 0 numbers. In order to get a deeper understanding of those numbers, read along and find some interesting facts and clear explanations.
Goal of Roulette
Let's explore the game before diving into the variations. It's easy to play, and your first spin may be a winning one. Depending on the variation you're playing, the roulette will have 37 or 38 pockets.
The betting options can be categorized as inside and outside bets. The inside ones are for direct bets on specific numbers, while outside bets are placed on colors and mixed numbers. Let's take a look at the inside bets:
Bet on a specific number
Split bet on two numbers
Street bet on three numbers
Corner/square means betting on 4 numbers
Double Street – bet on six numbers
While the outside ones are:
1-18 or 19-36, also known as low-high
Red/Black
Even/Odd
Dozens 1-12; 13-24; 25-36
Column bets
As you can see, the options may be confusing at first. The outcome is also confusing, as you may double your bet upon a win on red/black. But betting on a specific number has odds of 35-1, which makes it more attractive. As always, higher potential comes with a higher risk.
American Roulette
It's safe to say that American roulette is the most well-known and often played game variant. The double zero is the game's distinguishing characteristic. Other than that, it differs from other versions of roulette across the globe in that the numbers 1 through 36 are arranged between two zero pockets. However, the rules and general layouts remain consistent. The house advantage in this variation is 5.3%, which means that approximately 94.7% of the money is won back by the players.
European Roulette
This type of roulette is often considered the game's original. The European roulette wheel has 37 digits (0-36) in total. The remaining sections of the table are pretty standard.
When it comes to roulette, the French version is a subset of the European. Because the house edge (only 2.7%) is so much less in this kind of roulette, many consider it to be the greatest option for gamblers. When the ball falls on 0, you lose half of your Even/Odd wager.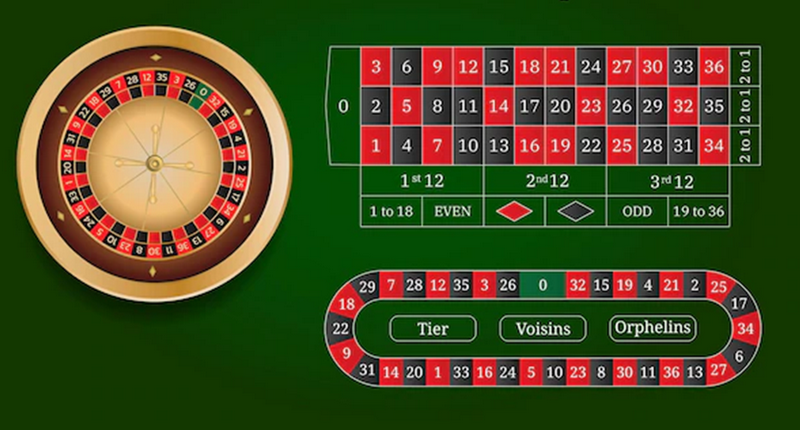 Since this type is so widely played, it's not hard to locate casinos with tables for this variation. European roulette is available at all casinos listed at https://casinotop.co.nz/ reviews along with the American version. The site only provides reliable and secure gambling options, so choosing a platform to enjoy roulette there is only rewarding. It is available in both offline and live casino sections, so you have plenty of choices.
French Roulette
The French variation is helping bettors just like the European version does. There is only one green zero as a single number. However, gamblers have an edge here since when you place a bet on red/black or odd/even and the zero strikes, it won't get automatically lost.
Instead, these wagers may qualify for La Partage, which implies that if a zero is dealt, the player gets half of his lost bet returned.
Another possibility is the so-called "En Prison" rule. Here, each chip is returned to the table for an additional spin. That spin will come in with the final outcome.
Double Ball Roulette
This variation comes from Las Vegas to spice the game a little bit more. As suggested by the name, a second ball is put into the spin. It was played first on the European wheel, which has a smaller house advantage and was later introduced to the American variation in the 1970s. Although the introduction of a second ball has been met with mixed reception, few would argue that it adds a dose of excitement to this classic!
Multi Wheel Roulette
This one is available only from Microgaming and boasts a massive 8 wheels in one table. After each round, the balls are dropped on all eight of them, and the winnings are settled accordingly. If you don't want some of them spinning for your current session, you can disable them and play with fewer wheels.
It makes sense that the non-RNG version of the game is unavailable. For obvious reasons, you can't just let everyone in a live lobby choose which wheels stay in play.
Rapid Roulette
When selecting this variation, you wager on the spin's outcome using its betting terminal. It's quite similar to land-based casino gameplay. It has a tablet-style interface, just like the ones in Las Vegas.
While this one can be found anywhere across the globe, the original version comes from Las Vegas and was introduced by Caesars Entertainment. They have it available in most of their land-based casinos. The difference here is that you can gamble more quickly and easily.
Mini Roulette
Just as the name implies, this is a scaled-down version of the standard. The wheel features only 13 slots, rather than the usual 37 or 38. It's undeniable that this is a fun game, and its compact form makes it ideal for play on family and friends evenings. However, the house edge is quite substantial, at over 7%.
Pinball Roulette
If individual characteristics are taken into account, this differs most noticeably from the original. It's like playing the game on a pinball machine! It's a combination for gaming and casino fans to enjoy various games all together! You'll get access to a pinball-style playing field without the flippers. The interface's numbering system is at its foot. Even though the table is full-size, you can't view all figures at once.
To Summarize
We've gathered the most popular roulette variations of this ancient gambling option. While regular players may benefit from the increased familiarity, the thrill may wear off after a while.
If you find that your interest in one version of the game is fading, consider switching to another! There's a lot to explore and try in the online gambling world.
To get the best free roulette systems that really work, see the top 5 proven roulette systems and the video series below. It's the best 100% free information for winning roulette you'll find. It's written by professionals who are really earning a living from roulette.