Last month, the United Kingdom Gambling Commission (UKGC) suspended the operating license of EveryMatrix Ltd with immediate effect and seemingly without warning. The regulator suspended the license in order for them to carry out a review of the business in question as to whether certain conditions apply, namely that the support for players procedure is correct and fair.
EveryMatrix are a software provider for a number of iGaming companies, a variety of which currently operate in the United Kingdom. The suspension has meant that several betting and casino operators including; Pwrbet.com, Fantasino.com and Bookee.co.uk have had to cease accepting UK player deposits and registrations. But is this just the beginning?
Ever Restricting Regulations
Online gambling regulators across Europe have been 'tightening the noose' for the past few years. A few years ago, updated regulations in the Netherlands meant that a number of online gambling operators including online casinos, had to either adhere to these extremely strict new rules or close their doors – many opted for the latter option given the huge amount of work that was required in order to stay open.
Gambling regulators in other European countries such as Italy, France, Russia and now of course the United Kingdom, have also been tightening the screw so far as the iGaming industry is concerned, which is why lots of those in the industry have looked to broaden their horizons. Some gaming companies, such as 'Come On' have even gone so far as to cease operating in some geo locations due to the regulation changes. Come On ceased their operations in the UK last month as the market was no longer profitable for them, due to updated rules and regulations.
Given these tougher regulations in the online gaming markets, many companies are seeing their revenues fall and share prices decrease in value. The iGaming sector is extremely competitive with hundreds of operators and affiliate fighting for their share of the prize in all GEO locations. Due to the tightening regulations in so many different markets, companies are having to adapt or die.
Will Online Roulette be affected?
It goes without saying that the online casino segment of the iGaming industry, which roulette games fall under, is still popular as well as profitable. Online roulette games account for a search volume of over 3000 searches per month in the UK alone.
The UK market is dominated by both affiliate and operator casino websites. Directions to online roulette operator websites are offered at all affiliate websites. Affiliates sites that offer online roulette games are set up in order to send their online roulette traffic to operator sites who host online roulette games. This is in essence how the online casino section of the iGaming industry works. Affiliate sites and operators are both fighting for their share of the pie.
Although Google announced in 2017 that where possible their search engine would look to favour brands (operators) in their rankings, Google recently announced that this is no longer the case and adjusted their algorithm to a more level playing field – neither brands nor affiliates are favoured, Google want users to be able to choose for themselves.
Whilst there will be no doubt that players will still be able to play online roulette, there is a chance that the number of sites offering it will decrease. At the same time, it is perhaps more likely that operators will look to move away from gathering paid traffic from affiliate sites and instead attempt to do the job of the affiliates themselves. As long as roulette players continue to exist and play in the numbers they are playing in now and persist in searching for roulette games to play, players will not be affected by any regulations save those that completely ban online gambling altogether.
What next for iGaming?
As usual, iGaming companies will adapt and evolve to the situation. The iGaming industry is entering its third major evolution after the poker boom and the online casino goldmine. Sportsbook betting is now one of the biggest growth sectors in the world with a huge and ever-growing target market. Sports betting may yet become more popular than casino betting, in part due to its image. Whereas workplace discussions around which football team you put a bet on at the weekend are extremely commonplace, it is less likely that you will hear two people talk about how much they won on the online roulette wheel, for example. Sports betting has a better image from that point of view.
At the same time, sports betting allows iGaming companies to market their brand to an absolutely massive demographic. 888 Casino recently signed a partnership with the iconic American football team and sports brand – The New York Jets. 888 Casino have their logo featured throughout the stadium including an on the pitch advertisement which everyone on TV will see during matches.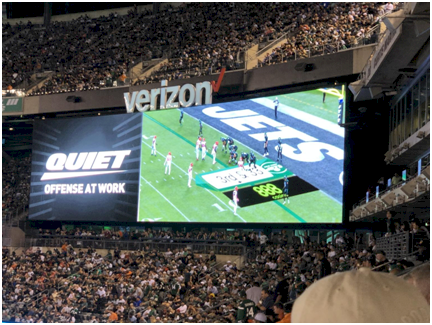 Expect all the big names in the iGaming industry to begin switching their main efforts to sportsbooks if they have not already. At the same time, whilst online casino games are banned in the majority of American states, it is expected that the US government is more open to opening up their gambling market for sports betting.
Full scale legalised sports betting is already allowed in thirteen states whilst a further five states have passed bills which will soon legalise sports betting in their respective states. It will take longer for each of these states to legalise online sports betting as adverse to sports betting at brick and mortar casinos. However, it is likely this will happen sooner or later, several states do already allow online sports betting. Nobody expects online casinos to be legalised in the USA any time soon.
Either way, online roulette players should not threat, there will certainly be numerous platforms for you to be able to play your favourite hobby on. But don't be surprised to see the iGaming industry begin to move away from online casinos and into sportsbook betting.
To get the best free roulette systems that really work, see the top 5 proven roulette systems and the video series below. It's the best 100% free information for winning roulette you'll find. It's written by professionals who are really earning a living from roulette.