Our roulette prediction systems began as an effort to raise funds to develop green energy technology, which is our primary focus. While it may not have been the easiest source of funding, roulette has always been one of my passions. With relation to roulette, our members includes ex-casino staff and experienced players, although I design the majority of algorithms. Tasks such as programming and hardware design are the responsibility of contractors. In the past 15 years, approximately 40 individuals have contributed to my roulette prediction technology.
About Me (Steve)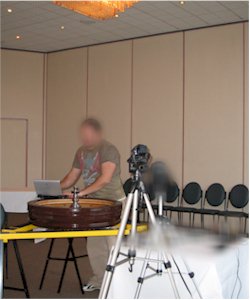 I'm the company founder and main designer of the technology. My primary focus has always been energy research, including but not limited to electricity production and transportation. I am well known in the energy research sector, partly because I purchased and worked on the original vehicle to run on an energy cell developed by energy researcher Alex Shiffer. At one stage I also worked with the US Department of Energy, although since found they aren't as interested in "free energy" as I thought. I have turned much of my focus to development of affordable housing solutions in combination with energy production, with the aim of creating sustainable living without the price tag. Some of my projects are explained to www.yourway.org.au and www.landsharing.org.
I have always had a strong interest in physics. After high school in 1994, I studied applied physics at RMIT university. This was with the intention of pursuing my energy research. It was not with the intention of having a career in physics. Unfortunately I found the course to be no more educational than reading books. The two main problems were the course moved too slowly, and nothing new was being learned. Additionally, many of the "accepted" models of physics are inaccurate because they don't account for unexplained phenomena. To achieve my goals, I required knowledge beyond text books, so it became clear that no course would teach what I needed to know – I had to learn it for myself. So I quit my course to learn physics for myself.
How I Got Started In Roulette
At the age of 18, I started attending my local casino and became fascinated with roulette. I saw with all the money being exchanged, if I could figure out a way to beat roulette, it would be a lucrative source of income to fund my energy research. The first few years yielded nothing but frustration, although I continued to develop various roulette systems, most of which showed no significant promise. One of my other interests was the air force (RAAF) and aircraft. I tried twice to gain entry as a RAAF pilot, but found the competition too intense especially considering only 5 people in Australia are selected each year. I reached the selection board which is the final process, but other candidates were more competitive. Nevertheless, I was offered my secondary preference as an intelligence officer via the Australian Defence Force Academy, which I declined.
While continuing my energy research and study into roulette, I operated various side-businesses. One of which was a self-written guide to teach students how to improve their memory skills. I wrote it in a no-nonsense way that I would have appreciated when I was a student. My businesses kept me moving forward with an irregular but sufficient income. Even at times when I struggled to earn much of an income, I refused to find regular work because I refused to work for someone else. I found working for myself to be twice as difficult, but much more rewarding.
The money itself did not interest me – it simply sustained my lifestyle and allowed me to continue research. My core focus was and probably will always be energy research. In about 1996, I began to market my memory skills products on the Internet. I found myself adept at marketing, so I created a promotional company to assist others in marketing their products. My promotional company became remarkably successful and my income increased exponentially. One of the major sources of income was lead generation, where companies paid me $5-$20 just for a sales lead to submit an information request form. Because I had developed numerous promotional networks such as LeadWhiz (which I since sold) and a tell-a-friend tool for webmasters, generating traffic and leads for my clients was remarkably easy and profitable. Some regular clients paid me $8 per lead, and I provided them with 50+ leads per day for years, without me barely doing anything. In 1999 I registered the corporation Site Promotions Pty Ltd to minimize tax. Generally if you earn more than $100,000 per year, you need a corporation or are taxed too much. Although most of my focus is now on sustainable technology, so the name was changed to Natural Laboratories Pty Ltd. While continuing to run the company, I spent much of my time developing roulette systems. But at this stage my financial success was from my businesses, and I had not yet achieved success with roulette.
First Success At Roulette
I was successful in business well before I eventually achieved success with roulette. My businesses were mostly automated and took little time, so I had ample time to continue my roulette and energy research.
Ultimately it was my learning of some basic principles of energy interaction that gave me a glimpse into how roulette could be beaten. Many of these principles are uncovered in the book "Living Energies" by Callum Coats. One of the major principles is how "everything affects everything". This was the basis for building a mathematical model of why the ball lands where it does. Put simply, there is no one single factor that determines where the ball will land – it is the combination of all variables combined. It was this understanding that led me to construct the model that can be used to predict roulette spins.
The most obvious variables are ball and rotor speed, but when you consider every other influence, you come to understand all major influences need to be considered if your predictive method can be used to adapt to changing conditions. Without full consideration to variables and how they affect each other, condition changes at the wheel render previous pattern models obsolete. This is what traditional roulette advantage play (professional play) methods do not address.
I had become aware of traditional professional methods called "advantage play". For example, visual ballistics and bias analysis which I now teach for free because I developed something much better. Specifically I developed a universal model to detect, track and use predictable patterns on roulette wheels. Development of this technology has continued for many years, and will further improve and adjust to changing casino conditions. For some time I applied my methods for myself with incredible success. But while you would probably like to hear I made millions from it from my own play and now offer it to you, this is not the case. The fact of the matter is I don't need it anymore for a few reasons:
I already make all the money I need from my businesses
I have something even better to beat roulette
I have many profit split partners that apply it and other technology for me, so I profit without needing to do anything but maintain the wheel analysis software and server
Many people who know little about my methods assume because they don't understand it, that it must be a scam. But at the same time they acknowledge the effectiveness of methods such as visual ballistics and bias analysis. This is peculiar since I do teach traditional advantage play methods (such as visual ballistics), but my players almost never use them because I teach much better methods. Simply put, my methods take traditional methods several steps further. For example, traditional visual ballistics models the relationship between two numbers (A,B) as you'll learn from the basic roulette computer algorithm page. However, my methods model far more variables, and the relationship between them. In the simplest terms possible, my methods better model the relationship between variables and spin outcomes. There is nothing mystical or magic about it. The physics behind it is quite simple. Perhaps it is natural for people to be skeptical of what they don't understand.
Although many players prefer the roulette system that doesn't use any electronics at the roulette table, the technology that I mentioned is "even better" than my roulette system is my roulette computer(s). They provide the most direct approach, and accurately calculate predictions based on the most influential variables which are:
Rotor speed and deceleration
Ball speed and deceleration
On very easily beaten wheels, the first two set of variables alone is sometimes sufficient to beat a roulette wheel, but more often than not, they aren't enough. My earliest computers closely resembled the basic roulette computer algorithm, but I quickly found it to be impractical. Basic roulette computer algorithms are also risky because if conditions such as ball deceleration rates change, and the computer does not adjust accordingly, you can go from betting in the right area to avoiding the right area, so you end up losing faster than random bet selection. So it became clear that a more sophisticated approach was needed.
What I Do Today
I run multiple businesses, including what is likely the largest team of professional roulette players. In addition to roulette, my businesses also include venture capital, marketing services, property investing, and a variety of technological developments (more non-profit though). Many of my roulette computer players pay me part of their profits, while others simply pay an initial fee for my time and keep 100% of their winnings. I am one of the few who can truly and honestly say my teams have literally earned millions from roulette. Overall I have almost 20 years of experience with roulette.
I still actively pursue my energy research, and operate the non-profit Universal Symbiosis Foundation which focuses on everything related to sustainable living, including but not limited to food production, affordable housing and energy research. One of the websites for this work is www.landsharing.org.
I live in rural Australia and far from city life. I'm independently wealthy, but I'm not the kind of person to drive around in a Lamborghini. I have never had, and will never buy an expensive vehicle. I live a simple and happy life. I don't need to do anywhere near the amount of work I do, but I enjoy it, most of the time. If you get to know me better, you will find me to be an honest and straight-forward person. I tell you realistically what can be achieved with roulette, and pride myself on being honest in all matters. I believe deception is a form of hiding from yourself, and its not how I live my life. I will always be a direct and honest person, and like to work with similarly-minded people. If you want to get to know me better before doing business, it is best to schedule a phone / skype call so matters can be discussed on a more personal level. Although please be patient as I don't live by the phone and usually only set aside Wednesdays for phone calls unless particular times are scheduled. See below for my contact details.
Best Regards,
Steve | Management
Roulette Wheel Analysis Group
Skype: rouletteanalysis
Ph. +61 3 9018 5395
Calls must be on WEDNESDAYS 9am-4pm (Australia +10 GMT) unless otherwise scheduled.
See my schedule page at www.roulettewire.com so you know when to expect a response. ALL players should subscribe to the blog for important updates.
About Our Roulette Development Team
We are a group of professional roulette players with varied backgrounds. While some of us are ex-casino staff, we are mostly passionate roulette players that collaboratively develop methods to beat roulette. Over 1,000 players actively use our methods world-wide. Casinos have been forced to hire consultants to advise them how to detect our players.
Our technology is developed by numerous individuals including electronics technicians, physicists and programmers who are hired as contractors, although I design most of the algorithms myself. I've been a professional player and team manager for almost 20 years. We have developed the most sophisticated roulette prediction methods available anywhere, which includes automated electronic devices that use hidden cameras to automatically track roulette wheels, and predict where the ball will land. These devices are still legal in most casinos, although we apply them secretly because casinos still ban players who are caught using them. We regularly conduct public demonstrations of our technology, so other serious players can see for themselves it's absolutely real. If you'd like to know more about these devices, see www.roulette-computers.com
To get the best free roulette systems that really work, see the top 5 proven roulette systems and the video series below. It's the best 100% free information for winning roulette you'll find. It's written by professionals who are really earning a living from roulette.